At Royal Holloway, University of London the MBA Director is always looking for innovative ways to challenge MBA candidates on their learning journey. Drawing on the (relatively) recent memory of his own Global MBA programme undertaken around the turn of the Century whilst a full time employee at British Airways, Justin remembers that some of the most poigniant learning was achieved using unconventional learning environments. This included facing a group of thespians to consider the leadership lessons found in Shakespeare whilst on a World War 2 airfield turned campus at Cranfield.
Fast track a decade and thanks to a positive reaction to a rather unconventional offer, a tactical collaboration between Royal Holloway's Drama team (Embodied by
Dr Emma Brodzinski
and
Alex Turner

, one of the founding members of
of
non zero one
, the drama department's resident theatre company 2012/13) and the School of Management's MBA cohort was born. The initial creative enterprise that will hopefully yield further exciting learning encounters.
The idea was to use professional and academic insipired drama techniques to engage the MBA group in the early stages of their programme. Four half day sessions (two back to back on one day) were envisioned, starting with a common shared experience of a Caryl Churchill play
"Love and Information"
which was running, to critical and commercial acclaim, at the Royal Court theatre at the head of Sloane Square. The contemporary production with 57 vignettes or scenes portraying 100 characters by a cast of just 16 was an ideal edgy and challenging play for the MBAs to experience. The set was a white cube, sub-divided by black grid lines and a variety of bright lighting. Vignettes used simple but highly effective props to generate a sense of place in an otherwise stark and austere stage, including an amusing upright double bed, cycling machines and a large sofa to feature a family watching TV (the audience).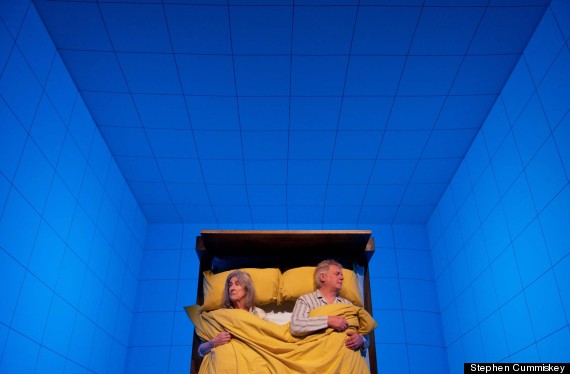 Pleasingly there is also a strong play and campus link for Royal Holloway MBA students.
Caryl Churchill, whose work spans six decades and has been performed globally, is considered by some to be Britains greatest playwright.
Professor Dan Rebellato
, Head of Drama at Royal Holloway, University of London stated that it was entirely fitting to name the soon to be opened £3m new 175 seat campus theatre in recognition of Caryl Churchills work.
(BBC, 4 Sep 2012)
The first campus based interaction for the MBA group took place with the two drama professionals Emma and Alex leading. With convential lines of table and chairs pushed away, replaced with a circle of chairs and a bean back the first session kicked off with more than a little apprehension.
Simen Gudevold, a Norwegian national who has taken a sabbatical from the HR function at the United Nations in New York, said "Although I generally prefer management classes over theater-studies, and feel more comfortable discussing case studies rather than expressing myself through images, I most definitely see the link between management and drama."
Gungzhong Xia stated "The drama workshop was truly refreshing. The atmosphere in the class became more harmonious after the interaction. We got closer to each other."
Jessica Dacchille added "We were happy to have been challenged in a different way."
Simen concluded "I think this session was a great initiate. The lecture made me realize how we communicate through non-verbal expressions and how power and authority is not only expressed through conversation."